Onix Creation for Accessible EPUB Conversion Orders
ONIX is the universal metadata protocol used by publishers worldwide to support the marketing of books through all supply chains.
For every format issued, a separate ISBN is required, which in turn requires an onix record. By the time most books are ready for conversion, an Onix record (usually covering the physical book format) will have been submitted by the publisher to the Onix repository of record in each territory. (In Canada, this is
Biblioshare.
)
When e-formats are added with individual ISBNs, publishers should either integrate these ISBNs into the original record as "related products" or create and circulate new Onix records for these titles.

To assist publishers interested in creating onix for e-formats, DPS supplies free onix records meeting ONIX Accessible standards for all ebook conversion orders.

How it works:

To add a title to the Titles module, the Print ISBN must be entered. This triggers a search on the Biblioshare database to populate the DPS record with key bibliographic elements and to download the book onix record and save it in the Source Files folder for the title. To complete the metadata entry, the
record owner/publisher enters the ISBNs applicable to the e-formats (epub and/or pdf) being ordered. As part of the conversion process, the new e-format ISBN or ISBNs are passed through an automated remediation process developed by Onixedit which adds the fields below to the basic book metadata and creates new records for each ISBN which, for Accessible formats, contain the
Onix "codelist 196" standards shown here.

These are delivered to the "Conversions" folder for each title as new onix records named with the print or epub ISBN, following these rules:

If a "Related Product" entry for the epub version of the Title is included in the original print record, the new record will be named with the related ISBN and the former print ISBN will be shown in the record as a "Related Product."


If the original record
978177422052.xml contains related product
9781774220634
The new record will be named A-
9781774220634.xml
If no "Related Product" is shown in the original record, the new record will be named with the Print ISBN.
The "A-" prefix on the filename will be the only distinguishing feature between original and accessible.
e-format records from DPS include:

Fields added are these:

<ProductForm>EA</ProductForm>
<ProductFormDetail>E101</ProductFormDetail>
<ProductFormFeatureType>09</ProductFormFeatureType>
<RelatedProduct>
<ProductIdentifier>
<ProductIDType>15</ProductIDType>
<IDValue>978xxxxxxxxxxx</IDValue>
</ProductIdentifier>
<RelatedProduct>
<ProductRelationCode>13</ProductRelationCode>
<ProductIdentifier>
<ProductIDType>15</ProductIDType>
<IDValue>978xxxxxxxxxx</IDValue>
</ProductIdentifier>
</RelatedProduct>

These are the Codelist 196 fields added to the record: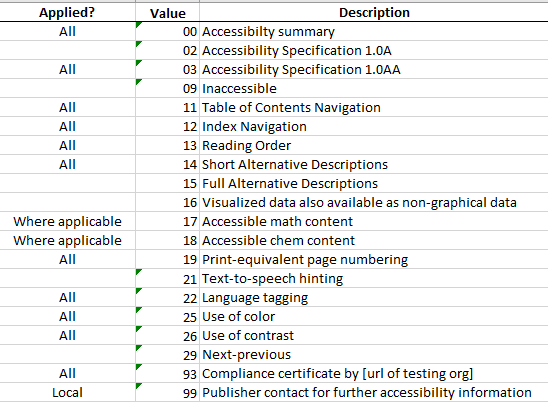 Submitting these new records through Biblioshare to ebook distributors is the best way for publishers to inform the supply chain that an epub meets Accessible standards.
Download a complete sample record from the attachment below.
---
More information:
Related Articles

Choosing a Conversion Supplier

At this link, NNELS provides a list of questions that publishers seeking Accessible EPUB should put to potential conversion suppliers. The answer from desLibris Publishing Solutions to every question is "yes." Working with a Third-Party Accessible ...

Services and Pricing

These are the services and packages offered by DPS, with per page pricing. ePub Conversion Services Service CAD$ / Page 1 ACE Evaluation $0.00 Free evaluation of an existing ePUB3 for new clients 2 Accessible ePub3 (ATAR Excluded) $0.90 Creation of ...

Which eBook Format Should I Choose?

As distribution channels evolve, the decision about which format is best becomes simpler. A decade ago, when epub was new and untried, ebook distribution channels like Amazon and Kobo developed their own epub standards, which resulted in a confusing ...

Benetech Global Certified Accessible (GCA) Standards

GCA is the program developed by Benetech to certify publishers and vendors seeking independent validation of their work. As a certified conversion vendor, DPS conversions are guaranteed to meet Benetech standards. APLN Reference Link This Powerpoint ...

Thorium Reader for Accessible EPUB3

To view the Accessible EPUB from DPS, we recommend the free, open-source Thorium Reader from EDRLab. Choose the version you need for download to your operating system here. Because Thorium supports a wide range of formats, including EPUB3 in reflow ...